STAND
How far can you go without taking a step?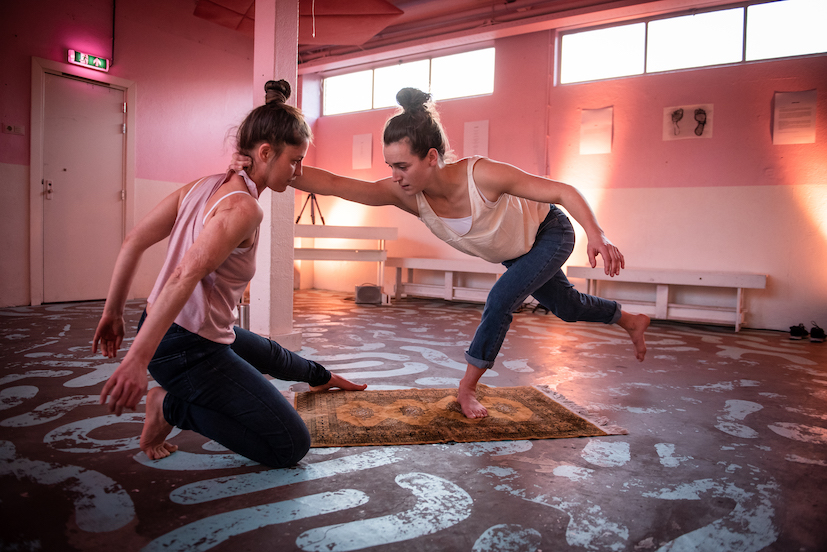 photos: Cloakture
In STAND (STAAN) the core members of The100Hands test each other's ability to keep standing to the very limit. How far can the body be pushed, pulled and bent without coming from the floor with both feet? What if not defining a winner but finding a way to play with strength and dedication is the goal?

In this process The100Hands do not describe the content in advance, but they go STAND on different places to discover, together with visitors, deeper layers of meaning to this encounter. Or rather to let those layers STAND out by themselves.




SHOWS


See AGENDA for upcoming performances

25/1/2020 Cultuurnacht in Chasse Theater Breda, NL
15-17/11/2019 Festival Jonge Harten Groningen, NL
28/03/2019 Moving Futures, Mot Mot, Breda, NL
22-24/03/2019 Festival Cement, Werkwarenhuis, Den Bosch, NL

CREDITSConcept and choreograpphy: Jasper Džuki Jelen, Mojra Vogelnik Škerlj and Jade van den Hout
Performers: Jasper Džuki Jelen, Mojra Vogelnik Škerlj, Jade van den Hout, Carina Klingsell and Gina Aussen
Production: The100Hands / Sanne Wichman
Music: ArthurMusic
Made possible with support of: PLAN Talentontwikkeling Brabant, DansBrabant and Podium Bloos



The100Hands work in collaboration with DansBrabant via PLAN Talentontwikkeling Brabant.